October to December is the ideal time to visit Bhutan as the air is clean and fresh with sunny skies. January and February are cool. From then until April the climate remains dry and pleasant. In late spring the famous rhododendrons bloom flooding the valleys with color – truly spectacular.
SPRING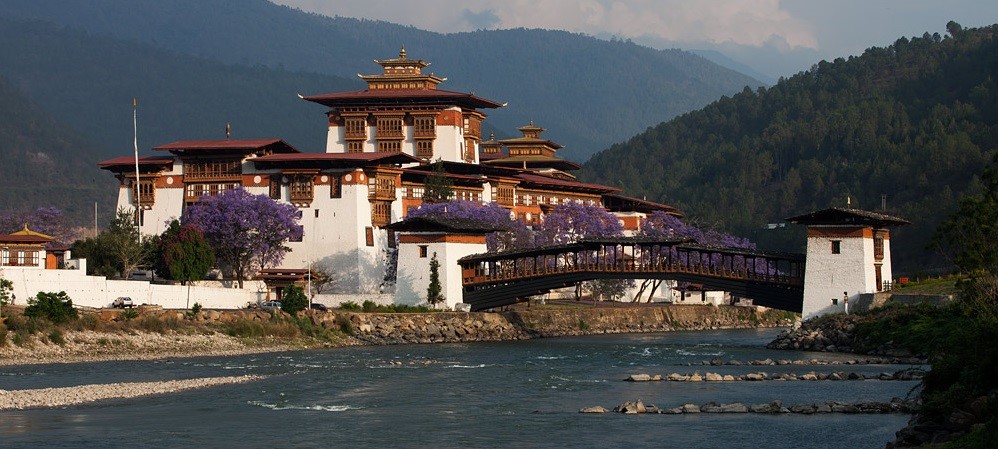 Nature lovers who are keen on local flora should consider visiting Bhutan end of April or in May. Flowers are full bloom then.
MARCH, APRIL, MAY
Special Events:
Gomakora (Festival in Trashigang)
Jacaranda Blossoms at Punakha Dzong in mid-May
Note: The Paro Tshechu festival usually takes place in early April for a few days. This is the best time to meet the King of Bhutan as he often makes his way to the festivities between the 3rd and last day.
Hotels are crowded. The better hotels and guides are booked early. Drukair Airline tickets will be fully sold out by early November.
SUMMER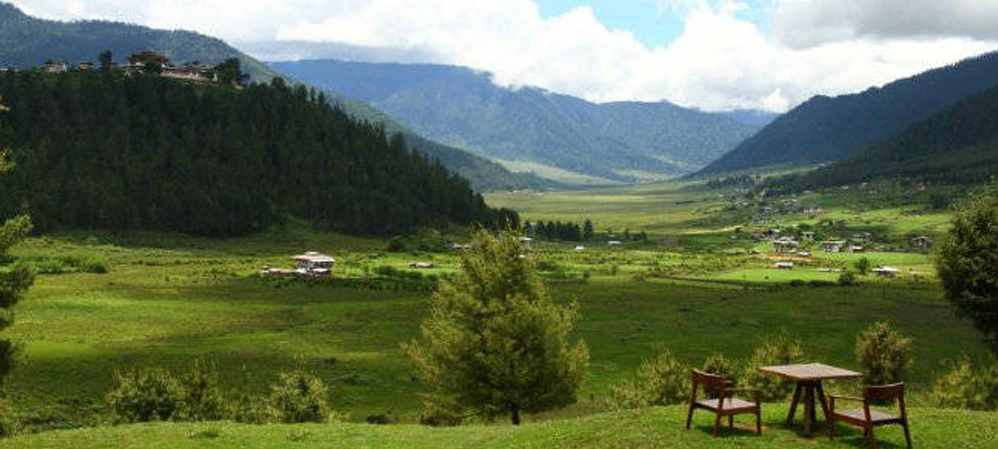 See the valley turn into a shade of gold as rice farmers prepare to harvest their crops. We can arrange for you a day at the farm including meals and homestay.
JUNE, JULY, AUGUST
Special Events:
If you like to avoid cold winter, consider visiting Bhutan early June. Monsoon season starts in late June. If it is late the month of June is great for travelers. Summer offer vibrant green forest and flourishing paddy fields. Clear blue sky after the rain.
Note: The summer season sees a lower level of tourist as many have the misconception that Bhutan may experience a rainy deluge similar to many parts of South Asia. This is not true, Bhutan experience relatively light rain with most rainfall confined to the late afternoon. Its generally does not affect most traveler's itinerary.
FALL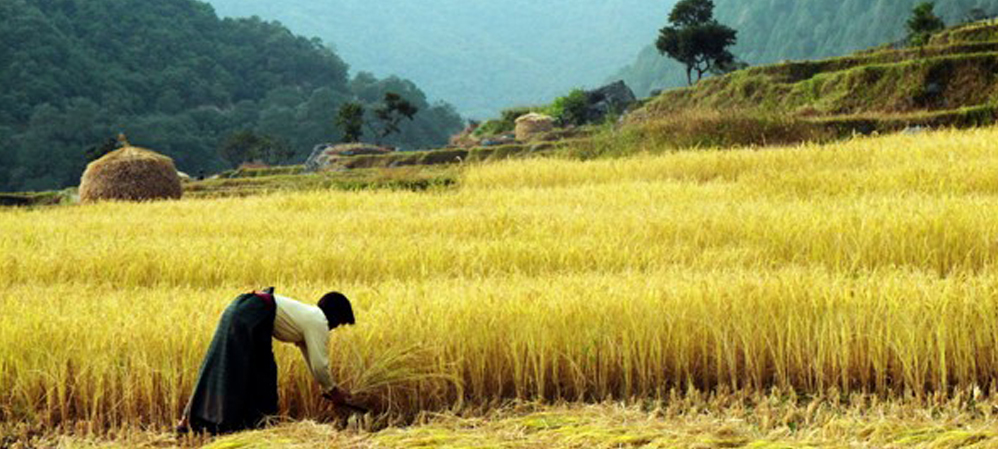 Fall Is another high and crowded season for Bhutan. Thimphu festival usually takes places at the end of September or early October.
SEPTEMBER, OCTOBER, NOVEMBER
Special Events:
Black-necked Crane Festival – stay with the local villager in the beautiful valley of Phobjekha and witness one-day Black-necked Crane festival.
In late September the famous Thimphu Tshechu mask dancing takes place in the capital of Bhutan. It is a renowned event.
At about the same time the Wangdi Festival takes place. You can have the opportunity to attend two festivals
Note: Towards the end of October, the mysterious Jambay Festivals that is famous for its bonfire dance of 20 masked and naked dancers take place.
WINTER
DECEMBER, JANUARY, FEBRUARY
Special Event:
Punakha is 30 Km away from Capital Thimphu. Punakha Dromche and Tshechu Festival is a week-long celebration of the founding of Bhutan. The celebration takes place mostly in the beautiful and ancient Dzong in Bhutan. The mild weather of lower Punakha also makes this town a great winter escape for the Bhutanese.
Note: Expect Snowfall in mid – Jan till early Feb. extreme weather and heavy snowfall may render the roads to central and eastern Bhutan unpassable.